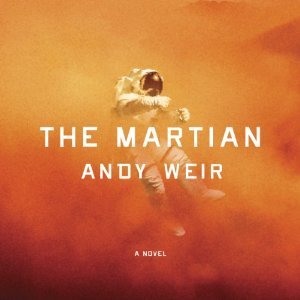 The Martian by Andy Weir
My rating: 5 of 5 stars
Potatoes and Pirate-Ninjas: the reason you will read this book.*
I'm late to the Mark Watney appreciation society, since I only heard about this book as a result of the movie trailer. I guess at least I didn't find out about the book after watching the movie and wondering if it was based on anything. The blurb essentially sums up the novel "Six days ago, astronaut Mark Watney became one of the first men to walk on the surface of Mars. Now, he's sure he'll be the first man to die there." There you go, premise done.
To say I enjoyed this book is an understatement, as I usually hate novels that try to be hard sci-fi. I mean, if I want to read a physics text book I'll grab the one on my shelf, not some of the "plausible" made up stuff that hurts my needless exposition aversion gland. So to find a hard sci-fi story that manages to be so entertaining was no small feat. The humour was a big part of the reason for the enjoyment. I felt that this addition was very important to not only the characterisation of Watney the space-nerd – because nerds are normally only funny to laugh at – but also in how too many novels would have taken the same premise far too seriously.
So now I'm looking forward to the movie. This should adapt very well to the big screen, and Matt Damon seems like a great choice for Watney. Hopefully Ridley Scott won't go all Prometheus with The Martian and we'll have a great adaptation.
Edit: The wonderful From Quarks to Quasars posted about the Real NASA Technology seen in The Martian. Check it out to get your geek further on.
* Because you'll wonder what the hell those things could possibly have to do with a book about Mars.