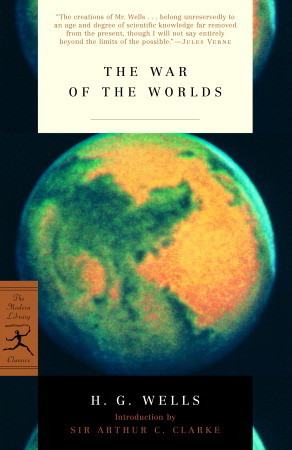 The War of the Worlds by H.G. Wells
My rating: 3 of 5 stars
Interplanetary war breaks out in Woking, Surrey England. Newsreaders even less sure where that is than countries in the Middle East.
The War of the Worlds is about Martians invading Earth using advanced technology, like 21 metre tall tripod machines, heat rays, and toxic smogs. One man is able to recount his experience of living through the invasion from the first landing to the start of the rebuilding of southern England.
It is hard to comment on such a classic novel. The War of the Worlds has gone on to influence culture in many ways. The obvious influences are in books and movies, most notably the Edgar Rice Burroughs novels and the entire alien invasion genre. But it also had an impact on science, such as Freeman Dyson's search for extraterrestrial life and Robert Goddard's rocket development. Not many books can claim that (seriously, read the Wiki article for a brief overview). Makes it very hard to comment…
While I enjoyed this book I came away from it underwhelmed. Much of the novel is interesting, not least of which is the understated setting – because now you would be considered mad to set an alien invasion story anywhere without a prominent monument that can be destroyed. The characters the narrator meets are also interesting, particularly the artilleryman who has big dreams about leading the resistance movement. But this is all told in a memoir style that lacks immediacy, tension, and excitement. Southern England has just been invaded by aliens with death rays, yet the narrator could just as well be relating the time he watched a cricket match in Surrey.
Worth reading as a classic, especially if you forgive the narrative style.
NB: It also influenced music, such as this one by Devin Townsend.