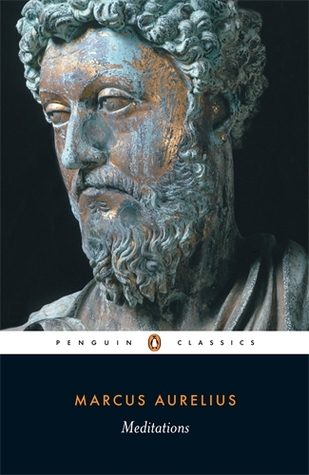 Meditations by Marcus Aurelius
My rating: 5 of 5 stars
"To read carefully, and not to be satisfied with a superficial understanding of a book."
[Insert superficial overview of Meditations here]
Meditations were something Marcus (we're on a first name basis here) wrote for his own moral improvement, to remind himself of and cement the Stoic doctrines he wanted to live by. Things like the world is governed by Providence (which certainly lets him off the hook for all those people fed to the lions during his reign); that happiness lies in virtue and your will to follow it; and that you should not be angry at others. Journalling of this sort was something Epictetus advised, which has resulted in a collection of notes, reminders, aphorisms, and slogans for every occasion.
There is a lot to like about Meditations. It felt like a self-help book but written with a more philosophical bent and less of the "you too can achieve greatness (and give me lots of money) if you follow my twelve rules for life". It isn't without problems, such as those outlined in Russell's History of Western Philosophy. I also found Marcus' musings on the Deliberative Content Problem to swing between ideas and thus come off as confused.
This is my second major reading of Stoic philosophy. I'm coming to the conclusion that Stoicism does seem to have a lot to offer.