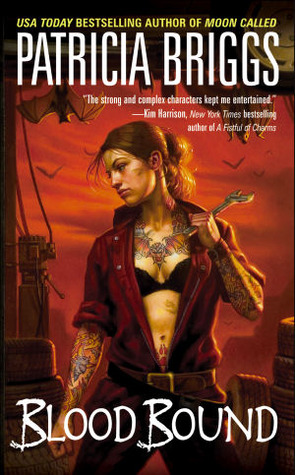 Blood Bound by Patricia Briggs
My rating: 4 of 5 stars
Never do a favour for something as it will come back to bite you.
Mercy Thompson is just your typical small business owner: fixing cars, keeping customers happy, seeing ghosts, dating werewolves, and being asked to do a vampire a favour. The favour involves helping Stephan with a vampire sorcerer, and that goes just as well as you'd expect. With the death-toll rising and even vampires and werewolves powerless against the sorcerer, it looks like Mercy is the only one who can stop evil.
Blood Bound is the second Mercy Thompson novel by Patricia Briggs. Where the first novel had more of a crime novel vibe, this is its own beast. Mercy may be the protagonist, but the world doesn't revolve around her, so many things happen without her, yet ultimately drag her into the fray. This makes the series quite refreshing and enjoyable for me. I'm looking forward to reading the next instalment.