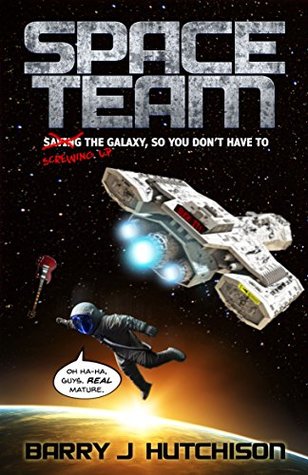 Space Team by Barry J. Hutchison
My rating: 5 of 5 stars
This is a Space Review of a Space Book.
Cal Carver is all charm. That's why as a low-level crook the warden decides he should spend the night in a cell with the most ruthless cannibal on the planet. This would have been a concern if he wasn't accidentally recruited for a team whose goal is to stop a pathogenic outbreak that could start a war. In space! Cal is teamed up with a by-the-book rookie, a mechanoid whose abilities are dialled in, a humanoid wolf, and a Splurt. Together they are Space Team… when they aren't trying to kill each other.
This was lots of fun. As Hutchinson notes in his author comments, this story was meant to be entertaining escapism. No deeper meanings, nothing serious, just fun. And it succeeds masterfully. The pacing is quick, the jokes come thick and fast, and the adventure keeps you entertained.
I'll be reading more from Barry and this series for sure.