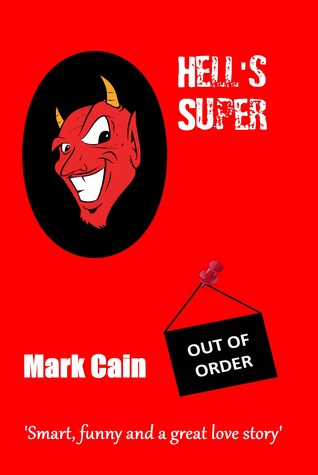 Hell's Super by Mark Cain
My rating: 3 of 5 stars
Hell is being surrounded by famous people, apparently.
Hell's Super follows Steve Minion, the only non-famous person in hell as far as I can tell, as he tries to fix all the problems that come up in hell. Whether it be replacing a broken light bulb on the sign leading into hell (Abandon all hope ye who enter here), or stopping a civil uprising, Steve is tasked with fixing the problem because he sucks at fixing things: it's hell, it's his punishment. His sidekick is Orson Welles and he is dating Florence Nightingale: enough said.
I picked up Mark Cain's Hell's Super as it promised to be a novel in the vein of Terry Pratchett or Good Omens: some satire, some straight laughs, some silly fun. It had those elements but for me it rarely rose above mildly entertaining. Having recently re-read Good Omens, a book Hell's Super is compared to in the back cover blurb, I can safely say that the Pratchett and Gaiman novel is not being knocked off the Best Novel of All Time podium any time soon. Too much of the humour and plot relies on utilising famous people and irony (especially in the punishments) to be classed as Pratchett-esque satire and humour. It also didn't help that the plot twists were obvious given the setting.
That said, this is an entertaining novel with enough humour to amuse. I think the comparisons drawn to Good Omens, Terry Pratchett, and Douglas Adams in the blurb set up too-high an expectation for me. Knowing that, you may enjoy it more as a result.