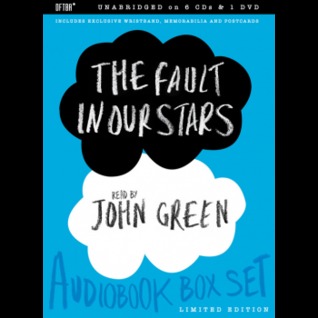 The Fault in Our Stars by John Green
My rating: 4 of 5 stars
Cancer really does suck, okay? Okay.
The Fault in Our Stars is a fairly straight forward novel, telling the tale of two teenagers who meet and fall in love. With cancer. And it has the audacity to treat teenagers, cancer, and life with humour and without being patronising. No wonder the Daily Mail didn't like it.
Anyone at all familiar with John Green, either via the Nerdfighteria community or his Vlogbrother-ing with Hank, will instantly recognise the casual wit and humour that forms the backbone of The Fault In Our Stars. I can't claim to be a Nerdfighter, well, aside from subscribing to all of their Youtube channels and supporting their charity campaigns, since it has taken me so long to read one of John's novels. But I think it is the humour John uses throughout the book that sets TFIOS – as it is known in Nerdfighter circles – apart from the generic "kids with cancer" novels.
I enjoyed TFIOS and would recommend it to most people. Just gloss over the generic plot, stock characters, and scenes that are only there to hold up jokes.
NB: I have the deluxe audiobook version narrated by John himself. Hard to imagine anyone else narrating, what with his dulcet tones.